[In dergelijke situaties is het altijd raadzaam om het gewas te maaien met een langere stoppel dan gebruikelijk. In plaats van op twee inch te snijden, snijd je op drie of vier inch. Dit helpt om het risico op bodemverontreiniging tijdens het maaien en harken te verminderen. "Opslag Meer dan een soort nabeschouwing [Na het nemen van maatregelen om het verwelken van de graszode te verbeteren en om het risico op bodemverontreiniging te verminderen, moeten boeren nog goed nadenken over één andere cruciale factor bij het maken van kuilvoer in de regen ", zegt Dave Davies. [De volgende opslag van de balen. "[Silagebalen gemaakt van een nat gewas kunnen meer vatbaar zijn voor lekkende effluenten tijdens opslag en daarom is het vooral belangrijk voor boeren en aannemers om ervoor te zorgen dat ze worden verpakt met behulp van minstens 6 lagen film in plaats van Dit is vooral belangrijk in die regio's waar boeren van oudsher slechts 4 lagen balenwikkel hebben aangebracht, IBER's raadt dit altijd als standaardpraktijk aan omdat de extra filmlagen de fermentatie hebben verbeterd, schimmelgroei hebben verminderd en helpen behouden meer van de silage als voedbare droge stof.Daarnaast betekent dit verhoogde risico van lekkage van effluenten ook dat er een zeer reële behoefte is om de silagebalen weg te bewaren van waterlopen.
Silage Wrap Film 750
Standaard specificatie:
1: breedte 750 mm
2: Kleur Wit
3: Dikte 25um
4: Length1500m
5: UV-bestendigheid 16-24 maanden
6: Core Paper of PVC
Ondertussen hebben we kuilvoerfolie op maat gemaakt in kleur, dikte, lengte enzovoort.
Silage film als het meest geavanceerde silage verpakkingsmateriaal, is op grote schaal gebruikt in Europese, Amerikaanse, Pacifische en Noordoost-Aziatische landen. Onze silage film is 100% maagdelijk geïmporteerde LLDPE en mLLDPE gebaseerde producten, met wetenschappelijke formule, fabricerend met geïmporteerde mutilaag co-extrusie blaasmachine.
De kwaliteit van het voer in een silagebaal is sterk afhankelijk van de kwaliteit van de wikkelfolie. Onze silagefilm is van stabiele hoge kwaliteit en kan worden aangepast om aan alle eisen van de klant te voldoen. Onze silagefilm combineert uitstekende scheurbestendigheid, weerstand tegen doorprikken, UV-bestendigheid, lage zuurstofdoorlaatbaarheid en de beste zelfklevende prestaties voor optimale bescherming en opslag van de voedingsstoffen.
Voordelen van onze Silage Wrap Film:
1. Hoogwaardig polyethyleen, voor het verpakken van alle soorten kuilvoer.
2. Hoge sterkte, gemakkelijk te gebruiken.
3. Alle films zijn 25 micron dik. Elk is een drielaagse geco-extrudeerde rekfolie.
4. Genoeg lengte voor elke rol. U kunt veilig 32 balen verpakken met een rol van 750 mm x 1500 m indien correct gebruikt.
5. Verkrijgbaar in 4 kleuren: wit, groen, zwart en oranje.
6. Bevat UV-bescherming die bestand is tegen degradatie door zonlicht.
7. Klevend tweezijdig, hoge kleefkracht zorgt ervoor dat de filmlagen snel aan elkaar hechten, voor superieure afdichting.
8. Uitgebreide back-upservice geboden.
9. Goed bewezen om het werk in uw land te doen
Neem voor meer informatie contact met ons op!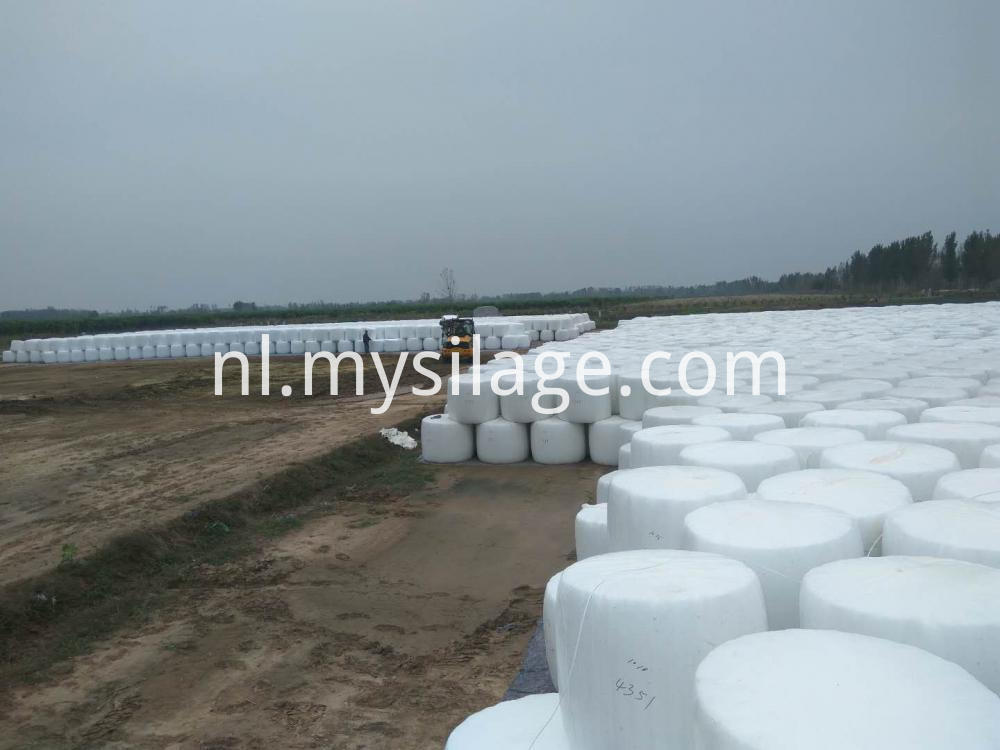 Product Categorie : Silage Film > Silage Film 750 mm