Belangrijkste voordelen:
Landbouw Rekfolie is gemaakt van een materiaal dat zowel sterk als veelzijdig is, zodat u uw balen gemakkelijk kunt verpakken en tegelijkertijd de inhoud ervan kunt beschermen. Omdat deze folie je balen veilig en beschermd houdt, kan het ook vervuiling of afval van de silage stack voorkomen, zodat je balen in de staat waarin je ze achterliet, blijven.
Silage Wrap Film 500
Standaard specificatie:
1: breedte 500 mm
2: Kleur Wit
3: Dikte 25um
4: Length1800m
5: UV-bestendigheid 16-24 maanden
6: Kern: papier of PVC
Ondertussen hebben we kuilvoerfolie op maat gemaakt in kleur, dikte, lengte enzovoort.
Kenmerken van Silage Wrap Film:

1. PIB-vloeistof maakt het oppervlak nogal kleverig en de lagen zijn goed verbonden, waardoor een zuurstofvervormde omgeving in de verpakking wordt gevormd.
2. Sterke sterkte met inbegrip van rek, scheurweerstand en punctuurweerstand. Zonder schade tijdens opslag in een zuurstofarme omgeving.
3. De film is zeer flexibel en bestand tegen lage temperaturen zonder breuken veroorzaakt door knapperig en bevroren te zijn.
4. Niet-transparante, lage lichtdoorlaat snelheid, het vermijden van warmte-accumulatie.
5. Lange gebruiksduur en de grasbundel met silagefilm kan voor een tot twee jaar buiten worden opgeslagen.
Voordeel van Silage Wrap Film dan Silage Pit:
1. Lage kosten en snelle terugkeer.
2. De kwaliteit van het voer, gevuld met silagefilm, is redelijk goed met een hoog robuust eiwitgehalte, een laag robuust vezelgehalte, hoge verteerbaarheid en goede smaak. Dit verbetert de kwaliteit en opbrengst van vlees en melk aanzienlijk.
3. Weinig afval, omdat de aantasting van de schimmel en de voedselverspilling sterk zijn verminderd.
4. Lange bewaarperiode in één tot twee jaar.
5. Kan buiten worden opgestapeld, ongeacht seizoenswisselingen, zonneschijn, regenval enz.
6. Gemakkelijk op te slaan en gemakkelijk te voeden.
7. Gemakkelijk transport en verkoop. De gebruikte film kan worden gerecycled en verbetert de kwaliteit van het milieu. Er is geen vloeistofpenetratie onder de grond.
8. Eco-vriendelijk, economisch, voldoet aan RoHS, SGS standaard.
Hoge kwaliteit, attente service, snelle levering "is ons principe voor onze klanten.
Neem voor meer informatie contact met ons op.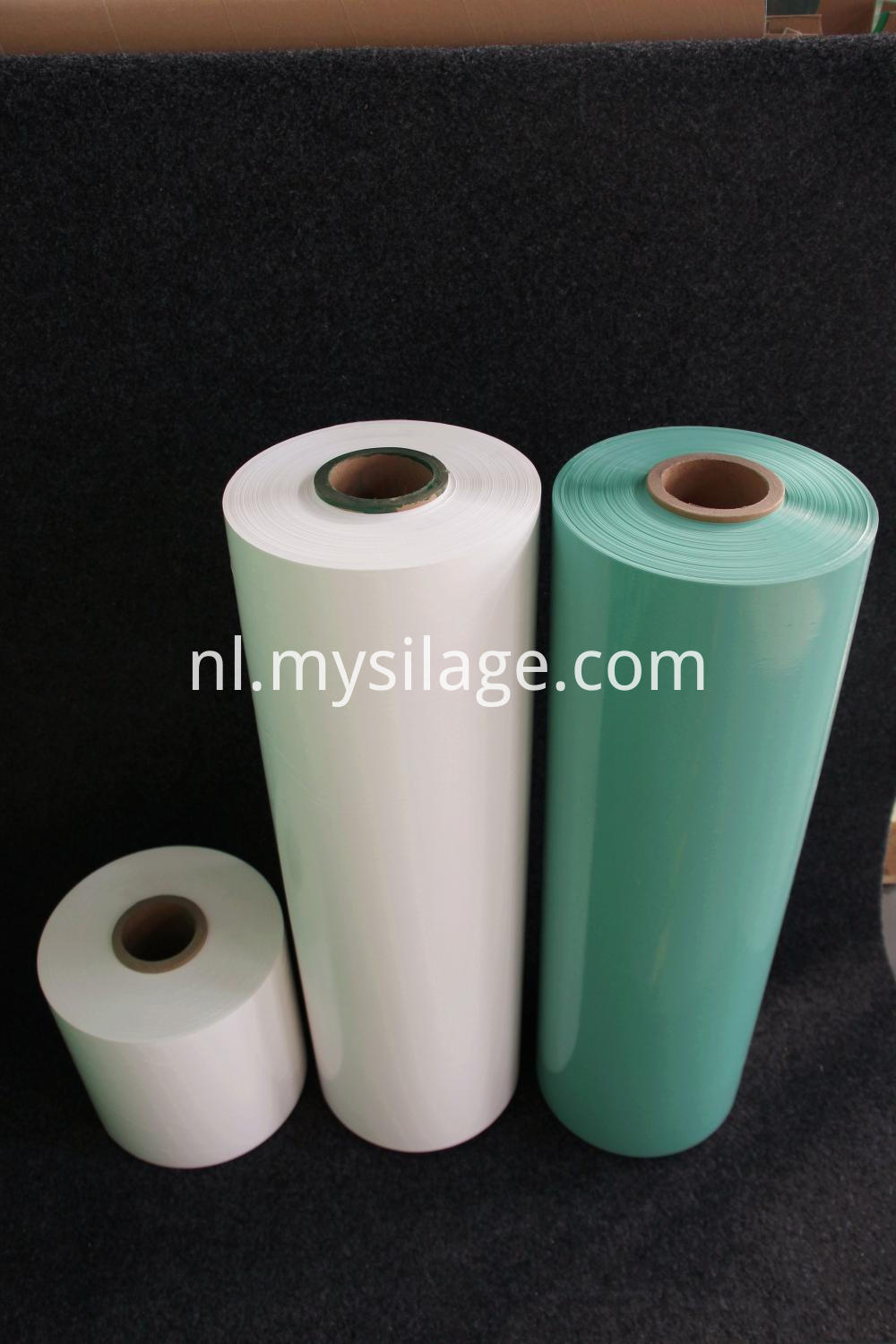 Product Categorie : Silage Film > Silage Film 500 mm